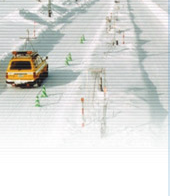 The Highway Snowstorm Coun-termeasure Manual


One of the main research achievements of the Disaster Prevention and Snow Engineering Division is "The Highway Snowstorm Countermeasure Manual (July 20 03)."This up date d 450 - page Japanese edition is a fully revised version of the previously drafted Highway Snowstorm Countermeasure Manual that was written in 1990. The manual in its entirety is already publicly available on the website. The main features of the revised edition include the addition of the General Guide which presents the procedure for evaluating the degree of danger of snowstorms and the selection of possible countermeasures. The revised edition introduces the alignment of trees in snowbreak forests while taking thinning and other maintenance operation into account and it also introduces the concept of using narrowband snowbreak forests to cope with reduced visibility during snowstorms. In the Snowbreak Forest Volume and Snow Fence Volume, procedures and essential points for design, construction and maintenance/
management of respective facilities are described in detail.

The Highway Snowstorm Countermeasure Manual website (in Japanese)There is also an abridged English edition.

Highway Snowstorm
Countermeasure Manual

| | |
| --- | --- |
| | o mitigate the risk of snow and ice disasters, including snowstorms and avalanches, the Team performs research to develop methods for measur-ing road visibility under snowstorm, supporting driving safety in snow-storms, monitoring avalanche likelihood and forecasting road icing. The Team also studies performance assessment of snow-protection facilities (e.g., snow fences, snowbreak woods), measures against snow and ice adhesion, and better use of road-related data, through more sophisti-cated winter road management. The research outcomes of the Team include The Highway Snowstorm Countermeasure Manual and RWML (Road Web Markup Language). |
Major research topics

Priority research projects

Research on winter road safety and efficient use:

Study on evaluating performance of snow-protection facilities

Study on snowstorm-induced poor visibility

Study on winter road management

Strategic research

Research on methods for determining the avalanche likelihood from heavy snowfall

General Research

Research on the advanced use of road-related information in Hokkaido

Research on winter road safety and efficient use:

Study on evaluating performance of snow-protection facilities (snow fences and snowbreak woods)

Snow fences reduce the amount of snow drifting over the road by acting as wind-breaks. This mitigates snow-induced poor visibility. They also prevent snowdrifts from forming, by trapping snow particles on the windward side of the road.

In addition to publishing The High-way Snowstorm Countermeasure Manual,The Team has been developing advanced snow fences, such as the collector snow fence for high embankments on high-stan-dard arterial roads and the blower snow fence for roads with oblique crosswinds.

Snowbreak woods have been used along roads for about 25 years to mitigate poor visibility and prevent snowdrifts from forming on roads in the same man-ner as snow fences. The Team is examin-ing how the growth of snowbreak woods relates to their effiectiveness in improving poor visibility and in trapping snow. The Team is developing effiective management methods and is quantitatively evaluating the growth of these woods.


Scene from comparative test of high-standard snow fences (left)
Scene from investigation of snowbreak forest growth (right)
Research on snowstorm-induced poor visibility

In Hokkaido, multi-vehicle collisions occur under snowstorm-induced poor visibility. Countermeasures are urgently needed.

The Team and the Scenic Land-scape Research Unit focus on behaviors of drivers under poor visibility. This col-laborative team has conducted road tests using a visibility-measurement vehicle and subjects wearing eye-tracking cameras. The Team is developing specifications for visual guidance facilities and their installation, and measures to support driving safety at times of poor visibility.
Research for evaluating avalanche likelihood and for advanced management of winter roads

Evaluating avalanche likelihood according to changing weather conditions is very im-portant for the appropriate management of roads in winter. The Team studies the causes of avalanches and methods for evalu-ating their likelihood, including regional fac-tors related to their occurrence, toward a system to support appropriate road manage-ment.


The Team is researching measures against snow and ice on roads, such as by studying how snow adheres to road signs.
Research on more sophisticated pro-vision of road-related information in Hokkaido

To prevent multi-vehicular collisions and other accidents at times of snowstorm-in-duced poor visibility, the Team is develop-ing the Wide-Area Information Provision Service. This service provides drivers with area-wide road and weather information on current and forecast snowfall, visibility and the like, through an Internet website and e-mailings to mobile phones, so that drivers can detour around snowstorms.

The Team also operates the Northern Road Navi website, which provides inte-grated road information on Hokkaido. From questionnaire surveys taken through this website, we are studying methods for pro-viding winter road information more appro-priately.

To study methods for more efficient and effective information gathering and pro-vision, we are performing Internet-based experiments using the Shiribeshi e-Route website. This website gathers and provides winter road information through the coop-eration of volunteers, such as gas stations and convenience stores.

Wide-area Information Provision Service
RWML: a web markup language for road information

By applying a next-generation extensible markup language (XML), the Road Web Markup Language (RWML) was developed for describing road-related Web informa-tion. By using this language, information on weather, regions and sightseeing spots along routes can be described and coordinated with time and location. On the experimen-tal Shiribeshi e-Route website, RWML has allowed information from various managers to be gathered, processed and provided via the Internet and mobile phones to meet user needs.

Kita-no-michi Navi

(Northern Road Navi)

(Japanese version)

English version also available

RWML (English version)



Ishikari Blowing-Snow Test Field and visibility observation vehicle

The Ishikari Blowing-Snow Test Field is about 17 km north of central Sapporo. In winter, the region is subject to strong winds from the northwest and countless snowstorms. Snowstorms are more fre-quent here than almost anywhere else in Hokkaido. Tests that are difficult to per-form on ordinary roads, such as driving tests and tests using full-scale facilities against snowstorms are performed.

The visibility observation vehicle, which is equipped with a visibility meter, a wind gauge and other meteorological in-struments, was developed for measuring snowstorm-induced poor visibility. The ve-hicle is equipped with an eye-mark camera and a driving maneuver data logger, which make it possible to understand where the driver is looking and what driving behav-iors the driver is executing under poor vis-ibility.

Ishikari Blowing-Snow Test Field

Visibility observation vehicle